Singer Mika Singh BANNED And BOYCOTTED By All India Cine Workers Association
By FnF Correspondent | PUBLISHED: 14, Aug 2019, 12:51 pm IST | UPDATED: 14, Aug 2019, 12:51 pm IST
Mumbai:
Singer Mika Singh Invited Controversy After His Performance in Karachi Pakistan
has been banned by the All India Cine Workers Association (AICWA). The film body, in a statement released on Tuesday, said that it had boycotted the singer's association with the film production houses, music companies and online music content providers. The association said that it will "make sure" no one in India works with the singer and that anyone who violates their will face "legal consequences."
AICWA has also sought Ministry of Information and Broadcasting's intervention in the matter



Here's the full statement: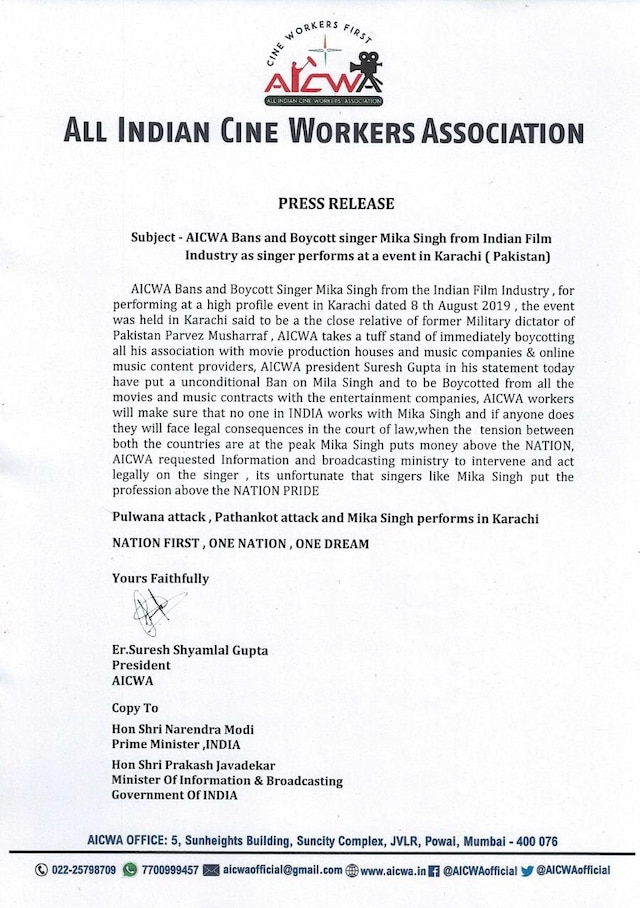 Press release by All India Cine Workers Association



Mika Singh's performance at the mehndi ceremony of the daughter of Karachi based billionaire businessman Adnan Asad, who is the cousin of former Pakistan dictator General Parvez Musharraf on 8th of August in Karachi had sparked a major outrage in India.



Mika's performance comes at a time when the relations between India and Pakistan have hit at a new low and the singer faced the wrath of social media. As soon as one of the video of the event made its way to social media, the netizens started bashing the singer left, right and center.





According to some reports, the event named as 'Mika Singh Night' also marked the presence of the family members of Dawood Ibrahim, who is one of India's most wanted terrorists.





It has been reported, that Mika charged a whopping USD 150,000 (Rs 1.06 crore) for the gig.