India's $3.5 billion secret is out, details of scorpene submarines leaked
By FnF Desk | PUBLISHED: 24, Aug 2016, 11:34 am IST | UPDATED: 26, Aug 2016, 18:02 pm IST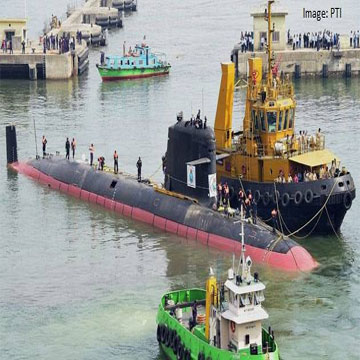 New Delhi
: Highly classified information on what makes six submarines being built in Mumbai so crucial for India's security have been leaked - more than 22,000 pages that serve as the operating manual of the Scorpene submarine have been made available with excerpts released online by an Australian newspaper.
The Scorpenes, being built for 3.5 billion dollars at the Mazegaon docks at Mumbai, are considered some of the most advanced of their class in the world. They are so silent underwater that they are extremely difficult, if not impossible to detect. But now their sonar capabilities, the noise they generate and details of the combat system they are armed with are totally exposed.
"I understand there has been a case of hacking, we will find out what has happened," said Defence Minister Manohar Parrikar. Navy sources said they are confident that the leak took place "outside India" and stressed that "the damage does not seem to be substantial" even as analysts in Australia suggested that's not correct. The Australian newspaper reported that the leak occurred in France in 2011. At the moment, it's unclear where the leak of data came from France or India, where the six Indian submarines are being built at the Mazegaon docks as part of a deal with DCNS, the French shipbuilder.
Submarines are considered the ultimate stealth weapon. Knowing how much sound a submarine makes underwater gives enemies the ability to know just where to look to detect the submarine. The sort of information that has been placed publicly is the stuff of a navy's nightmare. The Scorpene fiasco is being seen as the compromising of security of one of the world's biggest defence projects.
The DCNS Group has also been signed up by Australia for a 38-billion dollar deal, but the documents that have been released cover the Scorpene-class model and do not contain any details of the vessel currently being designed for the Australian fleet
Excerpts published in redacted form on the Australian newspaper's website contained highly sensitive details of the submarine including technical manuals and models of the boat's antennae.